SUGAR FREE - GLUTEN FREE - NON GMO
SPRING FORWARD with our decadent seasonal flavor, Red Velvet Cake

READY TO SHOP BEFORE EVERYONE ELSE?! VIP DAY IS APRIL 15🎉
Seasonal flavors are made in a limited qty & sell out fast! Ensure you snag a bag first by signing up for the Launch List👇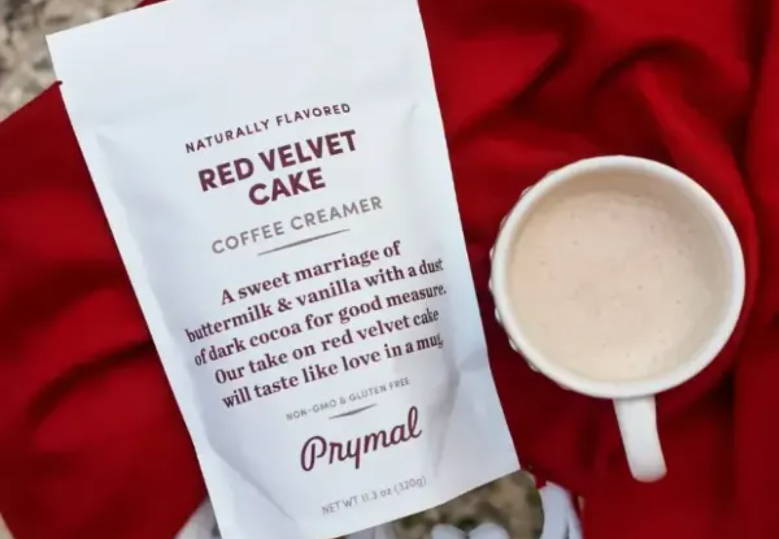 When my dad was diagnosed with Type II Diabetes, I was devastated. I knew his diet was in for an overhaul, and the sugary sweeteners had to go! I started Prymal so that my family, and coffee lovers around the world, could satisfy their morning sweet tooth in a healthier way.
Love Always,
Courtney, CEO & Founder
Red Velvet Time is an Annual Event!

Grab a couple mugs for you and your honey, your bestie, or your parents :) This is a flavorful limited edition flavor you're sure to enjoy.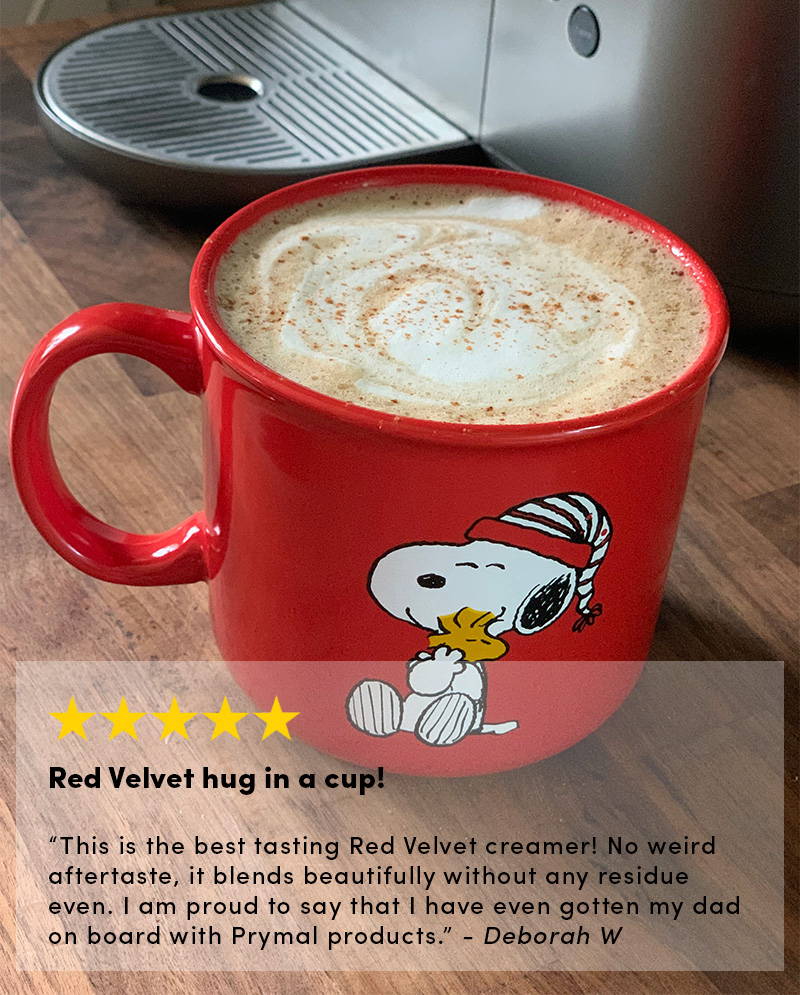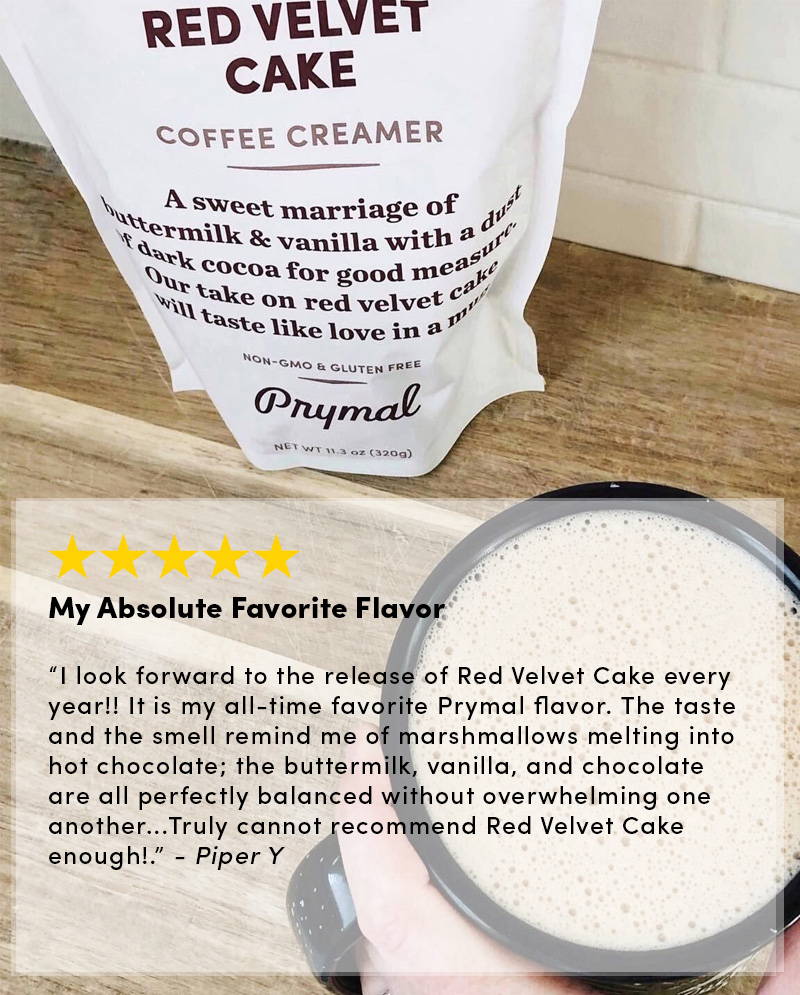 Enjoy the taste of dessert, without the calories or sugar

All Prymal products are crafted in-house and are made with 100% ethically sourced natural ingredients.
Traditional creamers contain hydrogenated oils, titanium dioxide, sugar, chemical sweeteners, or corn syrup solids -yuck! You won't find any of those in Prymal products.
Made from ethically sourced palm & coconuts that support healthy farming ecosystems. Our blend of high-quality stevia & erythritol sweetens the creamer without adding calories or sugar.
Yes! Our indulgently flavored lattes align with your health goals. We craft our unique, all-natural flavors by hand & are always in the kitchen experimenting new zero-guilt creations.
When my dad was diagnosed with Type II Diabetes, I was devastated. I knew our diet needed to change, especially the sugary creamer. I started Prymal so my family and coffee lovers around the world could satisfy their morning sweet tooth in a healthier way.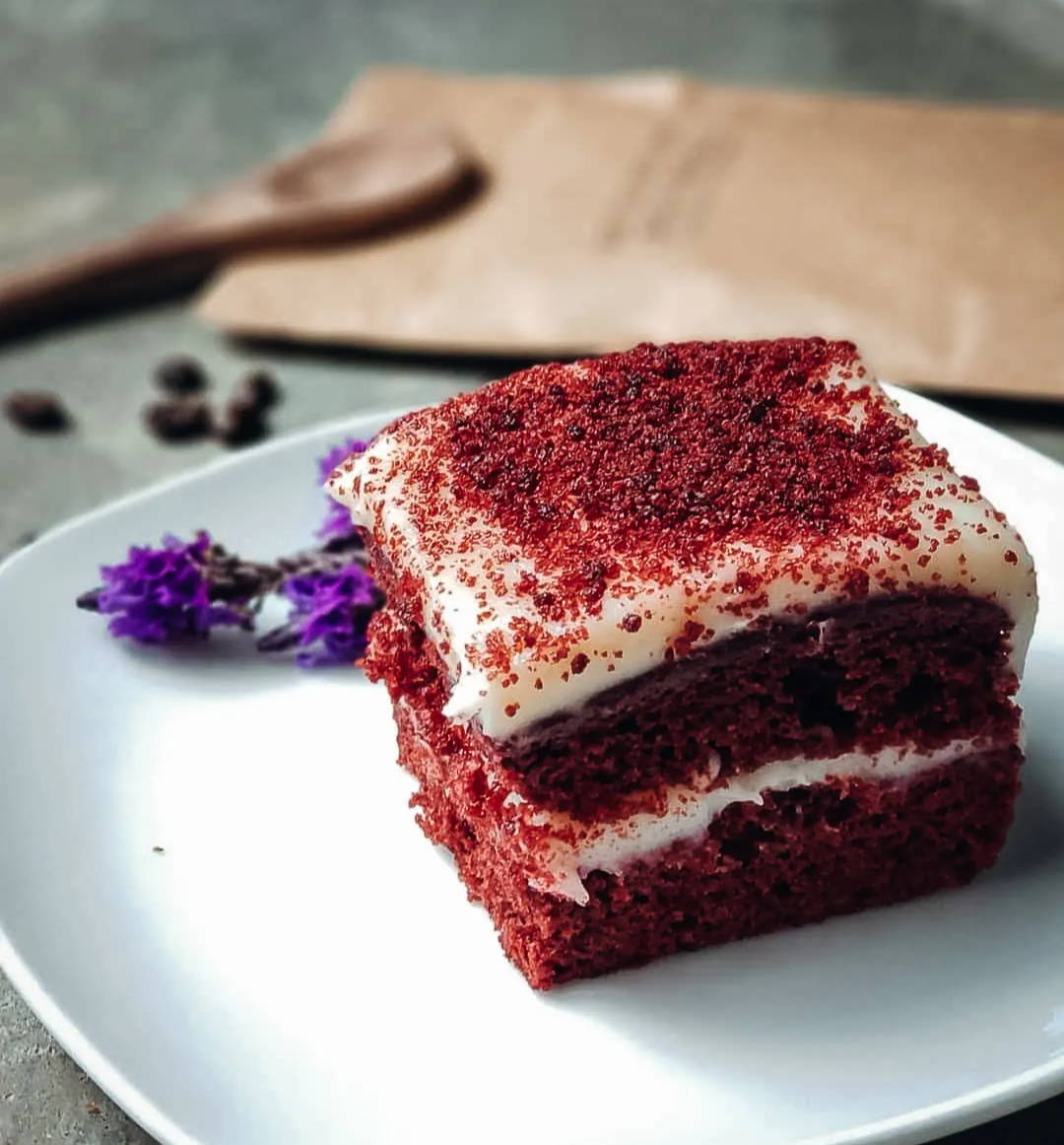 A 'dance around your kitchen' kind of creamer

Prymal isn't just for coffee. Mix it into plain yogurt, make a kid-friendly milk steamer for kids, throw it in a smoothie! Here are some yummy, guilt-free recipes to feel excited about.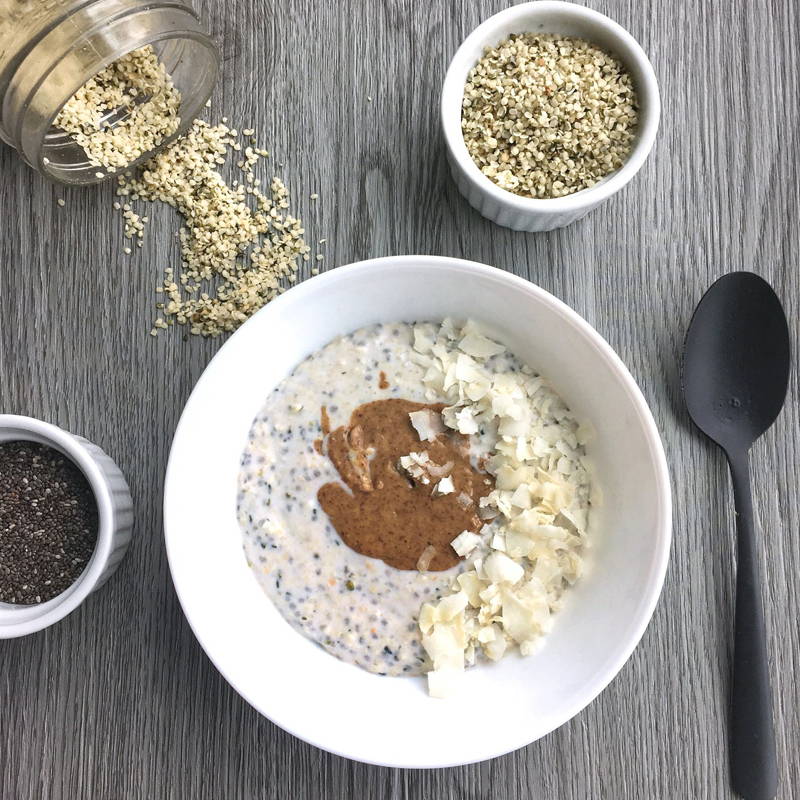 Mix the following & stick in the fridge overnight. Enjoy in the A.M.:
3 tbsp hemp hearts (shelled hemp seeds)

3 tbsp chia seeds

4 tbsp fine shredded coconut

3/4 cup + 2 tbsp almond milk or full fat coconut milk

1tb nut butter of choice

1.5 rounded tb of Red Velvet Prymal Creamer

2 tbsp yogurt of choice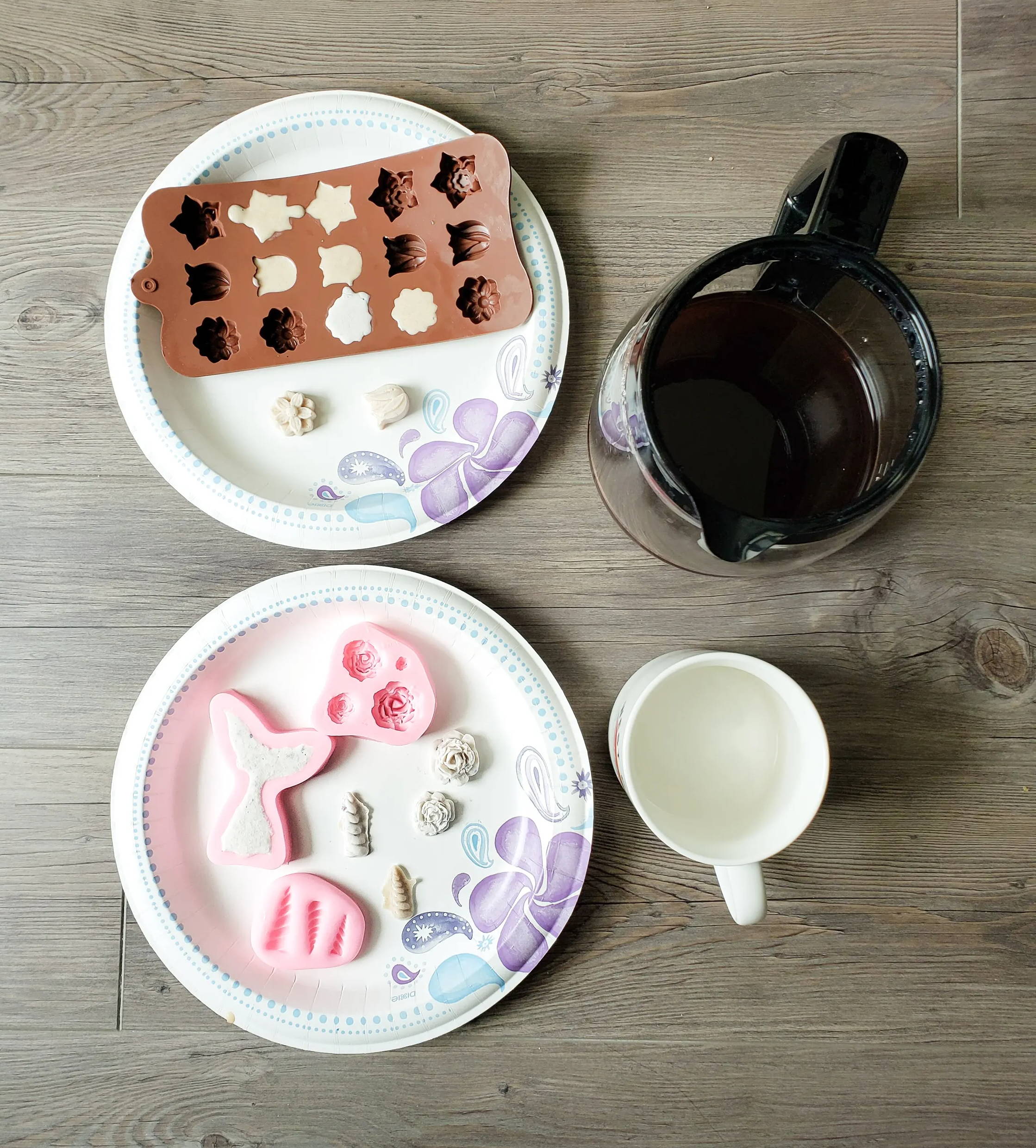 Healthy Coconut Coffee Bombs

It's so easy & you can mix any Prymal flavor you want💡
 
DIRECTIONS: 
 
1. Empty 1/2 can of full fat coconut milk🥥 🥛 
 
2. Add 1/4 cup any Prymal creamer of choice 
 
3. Stir in & heat until it dissolves 
 
4. Lay your molds out on a baking sheet.. Pour coconut milk mix to fill molds. Let it cool for a few minutes then stick in the freezer to harden 
 
5. Once they're solid, pop them out of the Silicon molds & store in a ziploc freezer bag or Tupperware in the freezer🤩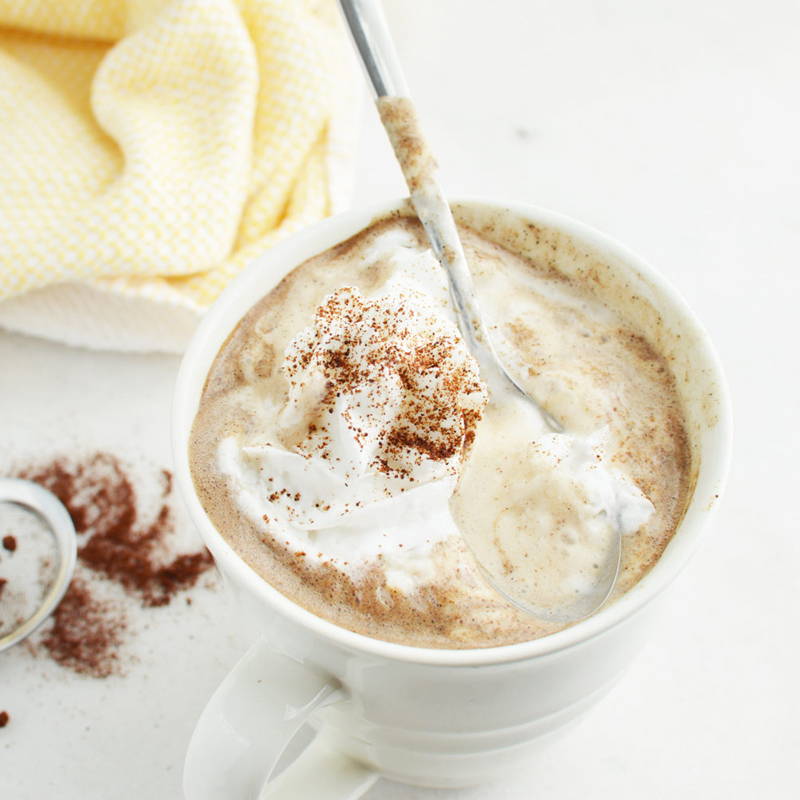 Red Velvet Coconut Whipped Cream

Chill a mixing bowl + a can of coconut milk in the fridge for at least 24 hrs

Scoop the solid white coconut cream into the cold bowl.

Discard the coconut water or save it for another use (such as coconut water ice cubes).

Using an electric hand mixer or a stand mixer with the whisk attachment, beat the cream until fluffy and smooth.

Add in 3 tb Red Velvet Prymal Creamer, 1 tsp vanilla extract, and 1/2 tsp cinnamon
Indulge in Tasty Coffee Creamers, Still Achieve Your Health Goals

You don't have to hear it from us! Check out the reviews:
"Red velvet yum! I knew I would like the red velvet, but I didn't know just how much😍 It's like dessert in a cup!"
"Best creamer ever! This is the best creamer ever! Red velvet cake is the only chocolate cake I like so I had to try this out and was not disappointed! Adds a nice subtle chocolate flavor to my morning coffee and makes it so creamy!"
"So Good! I'm seriously so impressed by Prymal! Not only is the Red Velvet super tasty, but their other flavors are also great. Both my orders have shipped quickly and the customer service is top notch! I'll definitely be a long time customer!"
"Tastes great! Tastes just like red velvet. I mix it with almond milk and use my frother. One of my favorites."
"Great healthy alternative for the whole family! I love this product hot and iced. But it looks like I'll be fighting my kids for it now! They love using the aero latte and putting their favorite Prymal flavor into warm milk for their own fun drink!"