SUGAR FREE - GLUTEN FREE - NON GMO
Hey there, remember carbs?

America's connection to our farmers & consuming fresh crops has changed over the past century. The type of carbs now are stripped of nutrition & are paired with sugar, GMO ingredients, & chemicals for the sake of convenience. No wonder you've been trying to avoid it!
Its time to bring us back to simpler times when people knew their farmer & ate real food. Make it easy. Make health convenient. Make it delicious. I've found my dream farmer partner & together, we're going to revolutionize this traditional breakfast category.
As you expect from Prymal, the oatmeals are sugar-free, clean, non-GMO & gluten-free, the best quality sources, & lower carbs.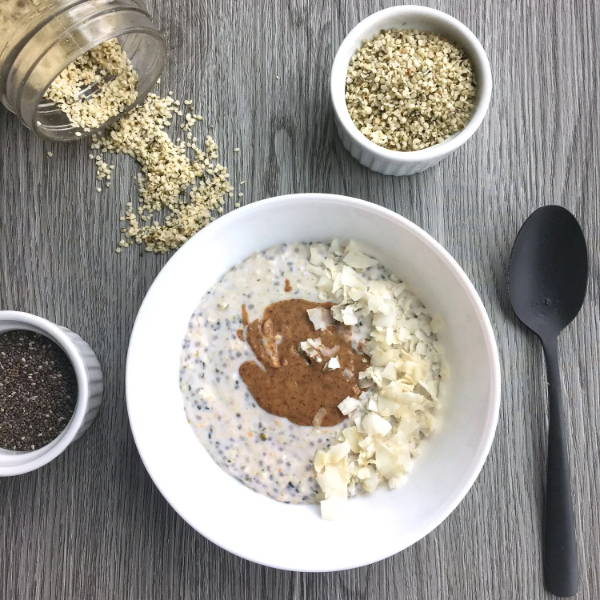 We're Bringing Flavor Back!

This launch needs to start with a bang, which is why we're starting with:
Fruit Loops:

Orange-y, lemon-y, apple-y with a hint of blueberry?! Like finding your soul mate, impossible to describe but you know it when you taste it.

French Toast Crunch

:

It's amazing this hasn't been turned into an oatmeal flavor yet. French Toast is the perfect marriage of crispy, golden pastry, custard and maple syrup. Savor the slightest wisp of cinnamon finish at the end.

Cinnamon Toast Crunch

:

A milky swirl of warm cinnamon sugar, buttered toast, and a kiss of sweet vanilla.
Time to let your inner child rejoice, without disappointing your adult self!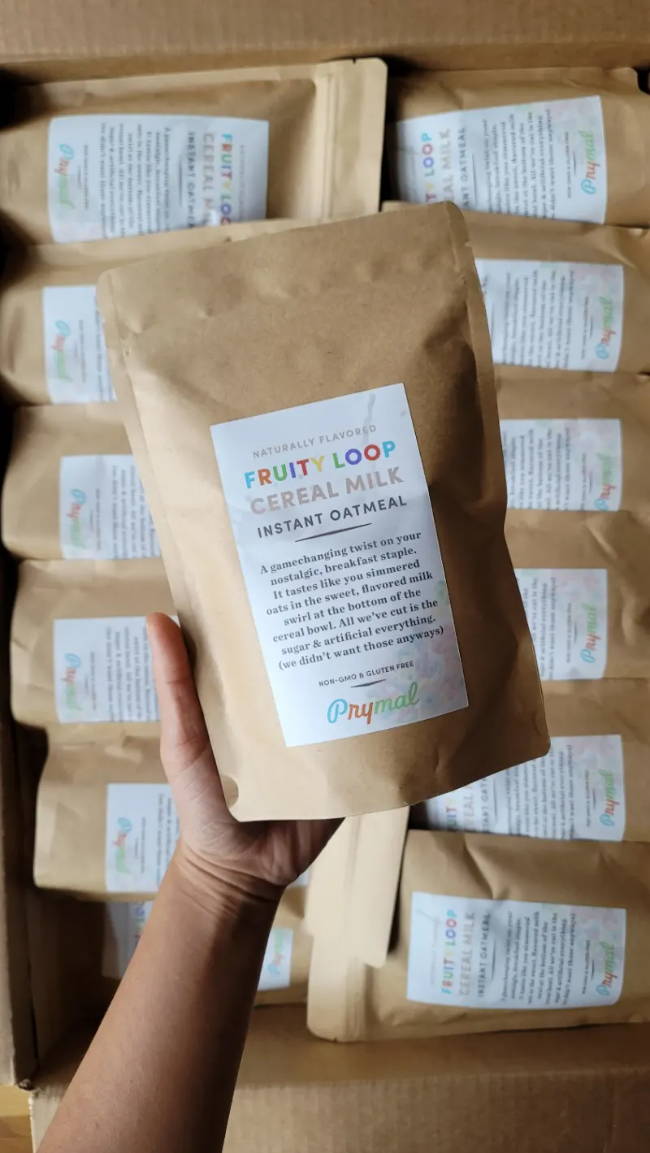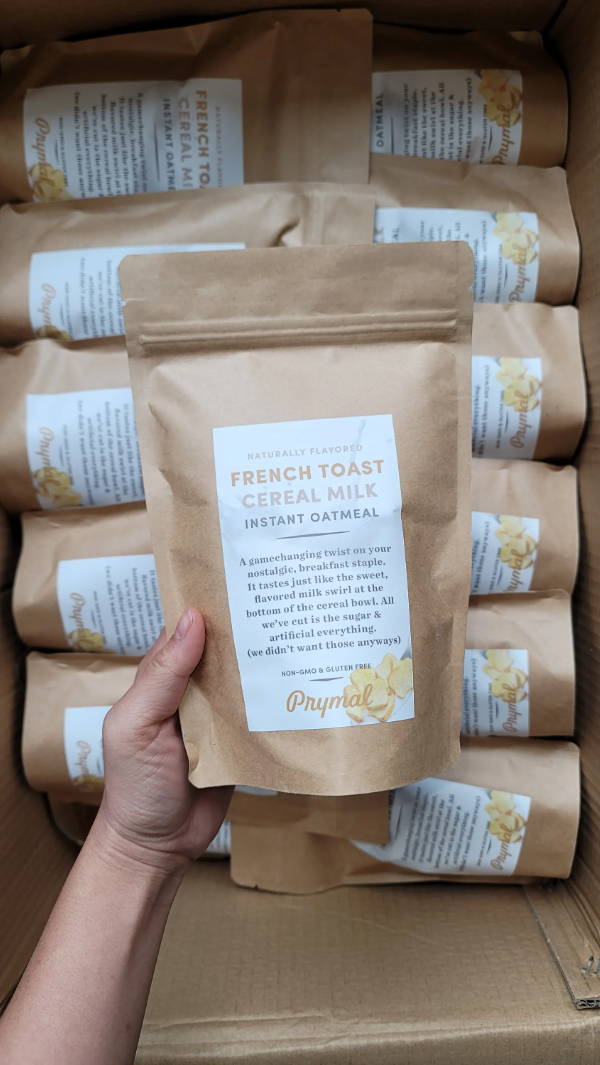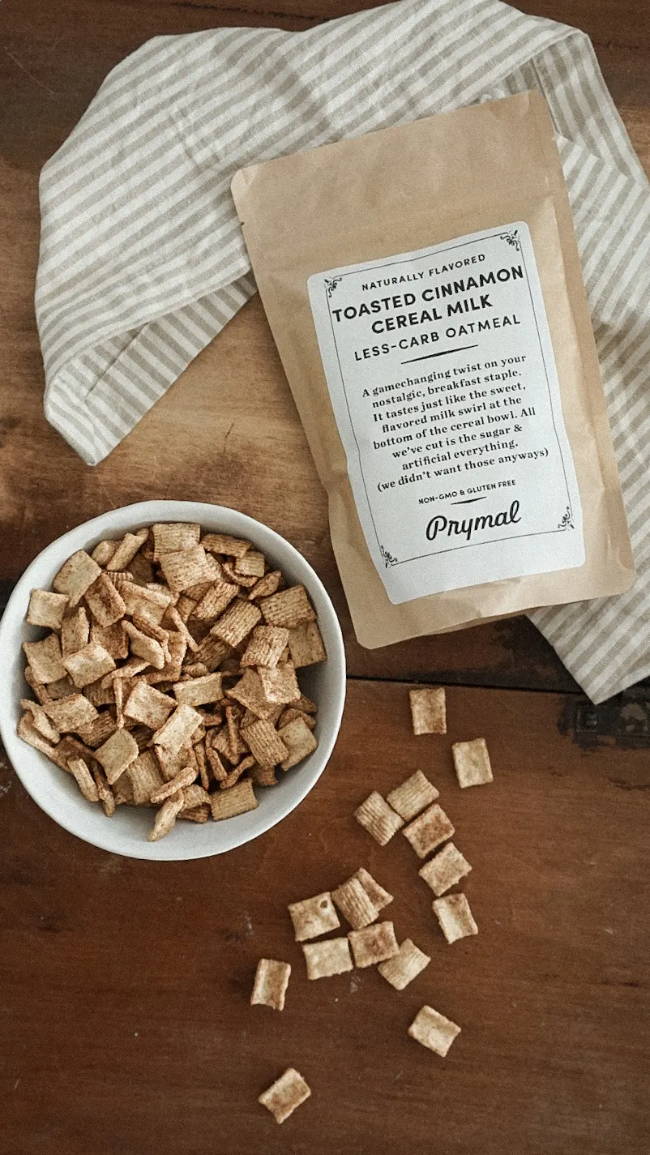 The (Carb) Choice is Yours

Sometimes you're strict on carbs, sometimes you're not. We created an option for whichever diet phase you're in: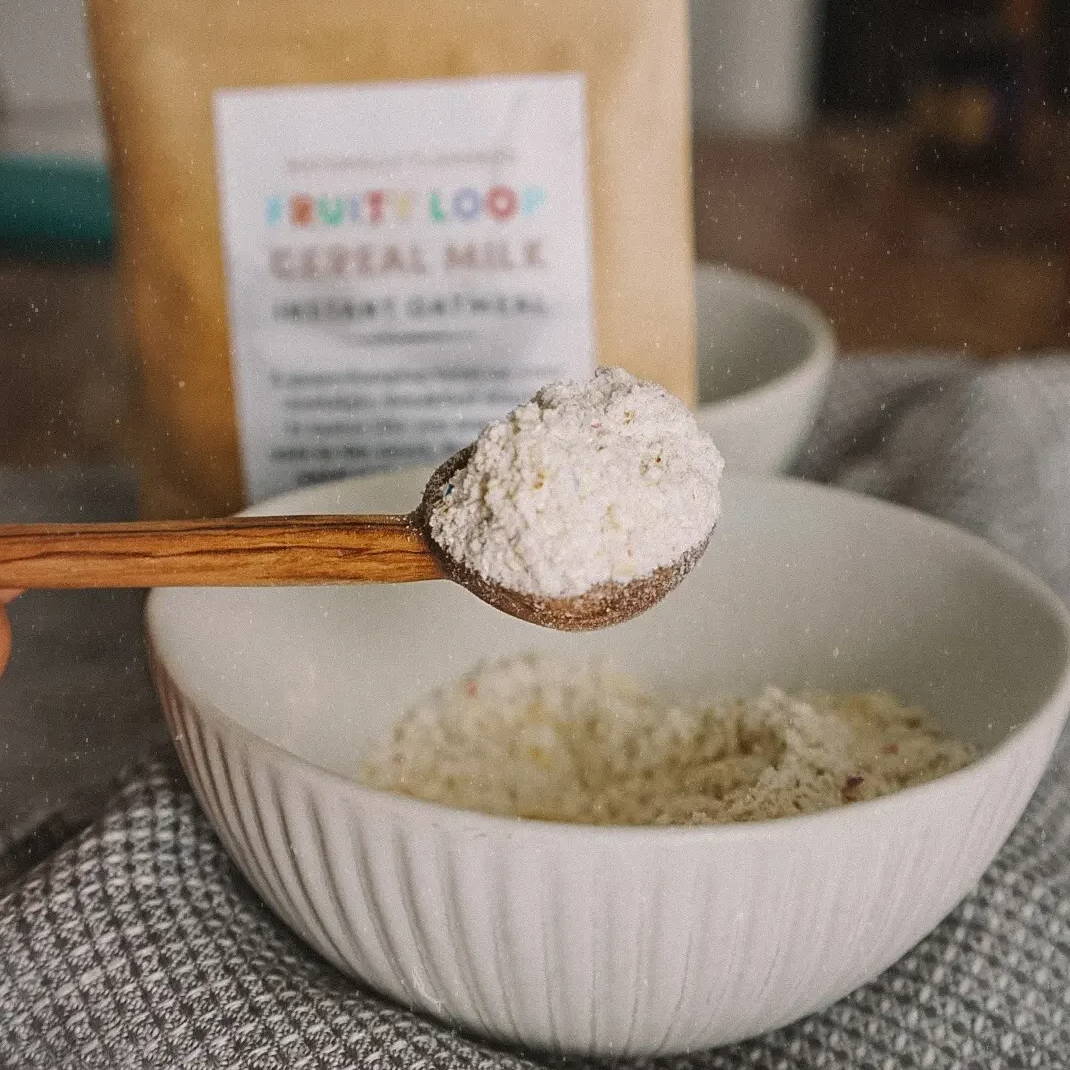 Classic Sugar-free Quick Oats

Net Carb count for Prymal Quick Oats: 24g Carb - 3g Fiber - 2g Erythritol = 19g Net Carb
Ingredients: Prymal Creamer + Gluten-Free Quick Oats
Oats, Coconut Oil, Medium Chain Triglycerides, Ketosweet (Erythritol, Chicory Root Extract, Monk Fruit Extract, Stevia Leaf Extract), Natural flavor, Organic Coconut Milk Powder, Inulin, Erythritol
Empty packet into bowl

Pour 1/2 cup of milk or milk alternative

.

Microwave for 1.5 min or heat on the stove, stirring occasionally.

Let oatmeal cool. Stir, & if desired you can splash a touch more milk on top (I do this to cool it down plus to make it even more creamy of a finish). Enjoy!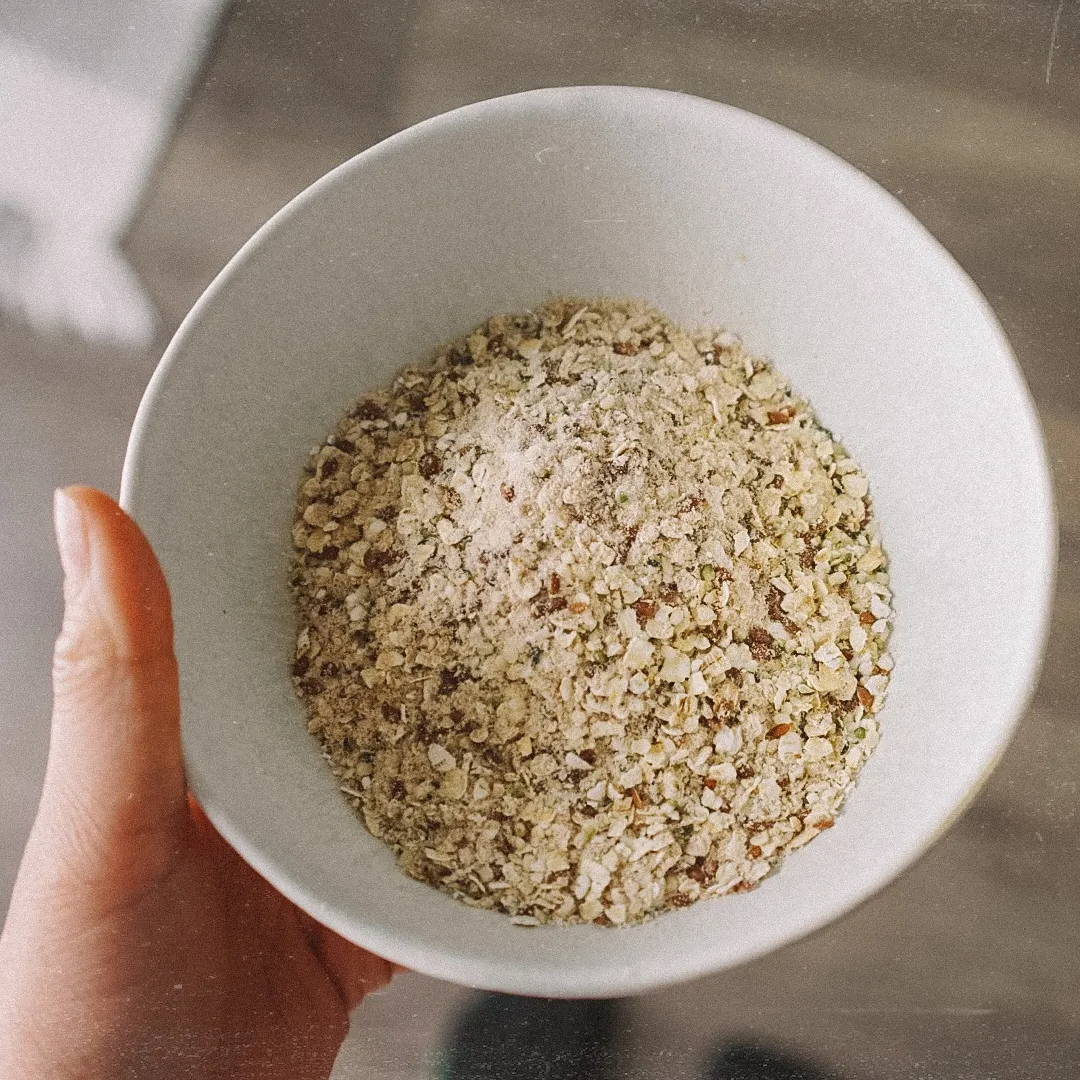 Less-Carb Sugar-free Quick Oats (1/3 less carbs than the Classic🎉😍)

Net Carb count for Prymal Half-Carb Oats: 19g Carb - 4g Fiber - 2g Erythritol = 13g Net Carb
The less-carb version is Prymal creamer + half quick oats, with the remaining half being a nutrient-dense blend of Non-GMO hemp hearts + Non-GMO flax seeds.
*IMPORTANT* Flax seeds & hemp hearts are not zero carb, but carbs aren't created equal. There's lots of "zero net carb" "Keto breads" floating around out there now trying to make a quick buck on the keto diet...but when you look at the ingredient deck, it is like a science experiment🤢 xantham gum, palm oil, cultured, wheat, enriched wheat flour, vital wheat gluten?! (none of these say Non-GMO so that pretty much means it's all GMO). ZERO nutrition our body can't process.
Carbs arent the devil, it's the lack of purity & quality of the food itself. Prymal + blend of Non-GMO quick oats, flax seeds, & hemp hearts straight from the farm to your bowl will flood your body with good soluble + insoluble fiber & heart healthy fats.  
Empty packet into bowl

Pour 1/3 cup of milk or milk alternative.

Microwave for 1.5 min or heat on the stove, stirring occasionally.

Let oatmeal cool. Stir, & if desired you can splash a touch more milk on top (I do this to cool it down plus to make it even more creamy of a finish). Enjoy!
Why is it Different Than What's Out Now?

I truly believe that my version is the first low carb oatmeal option that still tastes like, well, oats. I've taken everything I've learned from creating the best natural, sugar-free, & low carb coffee creamers and applied it to the best farm-to-table oatmeal. I also believe I can create better flavors that all generations will enjoy & make healthy breakfast more accessible.
You already know why I created the creamers. My dad. My grandpa, my dad's dad, is also diabetic and his breakfast everyday (per his dietitian) was to consume oatmeal for slow releasing carbohydrates that help lower blood sugar. Well, oats are healthy but not the kind he was eating. He would buy the Quaker Oats packs which are full of chemicals, GMO's, corn syrup and worst of all....sugar and artificial sweeteners! This is not what the dietitian meant. Once I started Prymal and nailed the creamer formula, I quickly realized that I could use this in oatmeal to replace the Quaker Oats crap he was eating. My other grandma at the time was also eating Quaker Apple Cinnamon everyday so I switched them both to oats + Prymal. THEY WERE IN LOVE!
So every month I mixed them both up a tub of quick oats + their favorite Prymal flavors for it which was usually my Birthday Cake and Pumpkin Spice😋. 1/2 cup of Prymal Oats a day keeps the doctor away! I've been doing that for over a year now with them and have been waiting for the right time when my business could afford to launch this as an official product. And when I could finally show why Prymal isn't just a creamer company.
Starting this business has been so challenging yet brought me so much joy + clarity on the impact I want to have on the world. With Prymal, I'll be helping families build a happy, healthy, memory-filled home for you and your love ones! It starts with tackling core pantry staples that families across all generations love to enjoy together 💕That's my heart and my intention with everything else coming along the way. Thank you for giving me this space + opportunity to serve you.
Love Always,
Courtney, CEO & Founder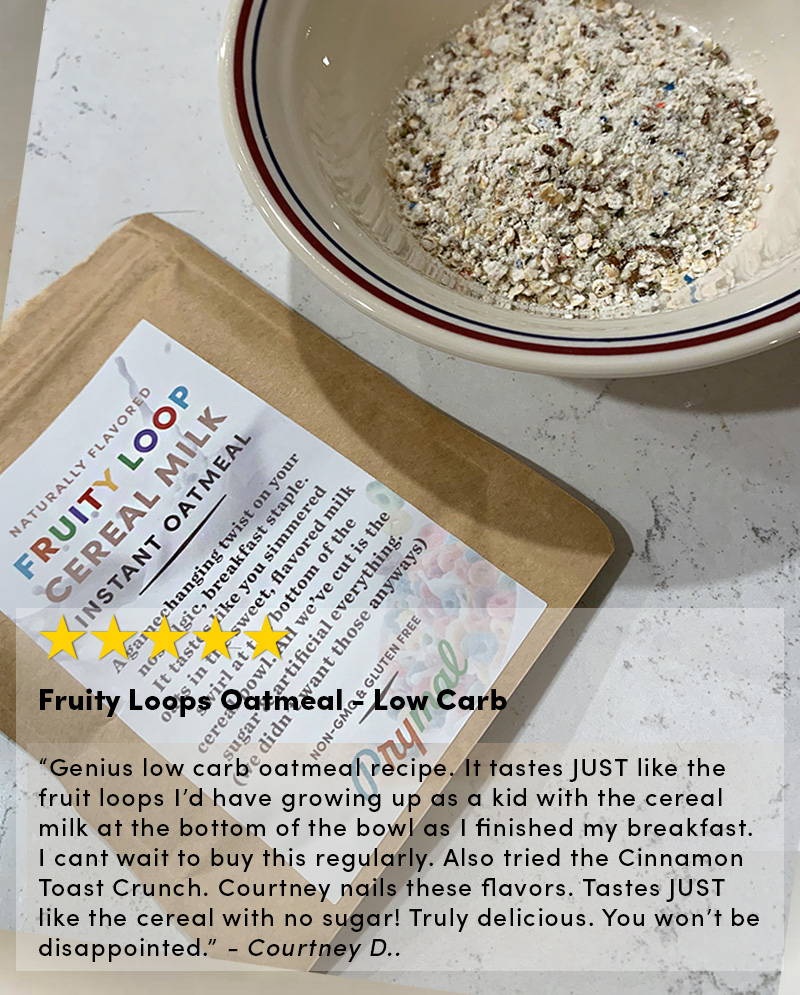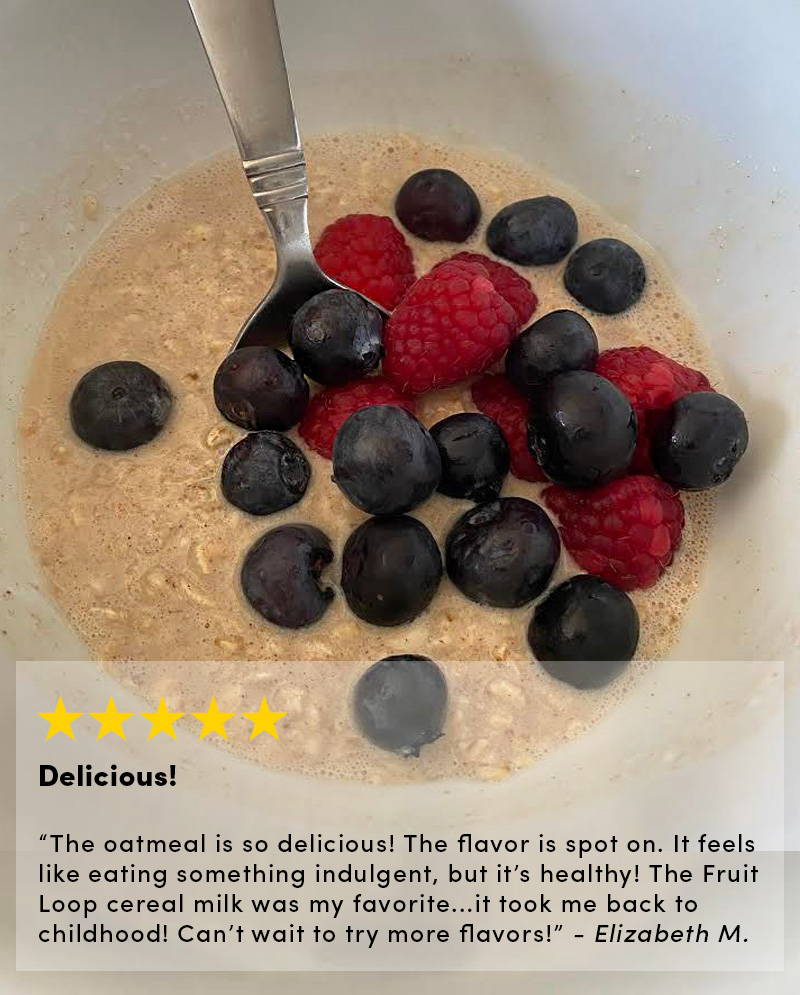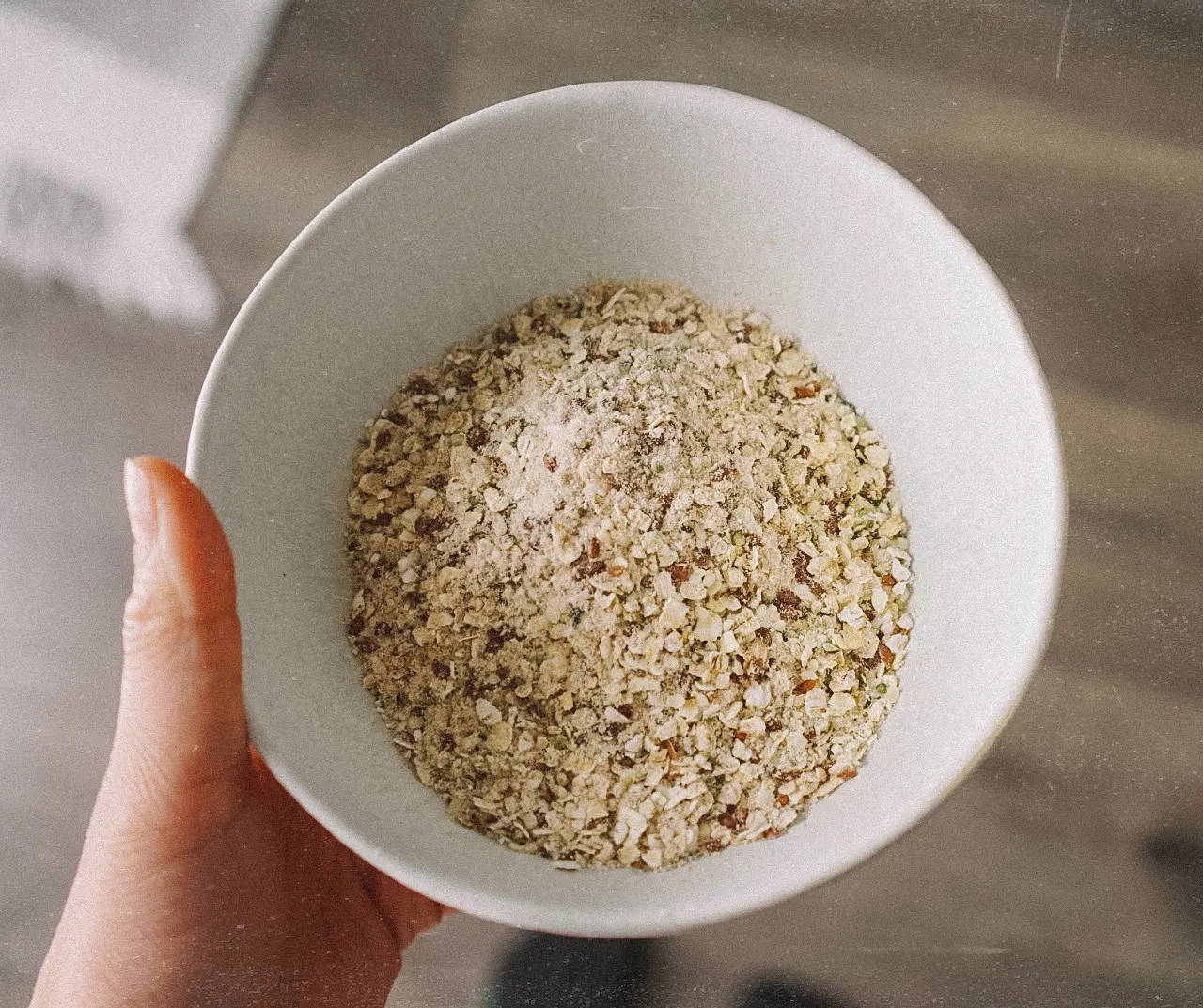 High nutritional density, low carbs

Hemp health Benefits:
Loaded with healthy fats and proteins and packed with nutrients. Hemp is an excellent source of magnesium, providing about 210mg or about 50% of your daily needs.

A serving of seeds also has 13% of the daily iron requirements for adults (2.4mg). Hemp hearts are also a good source of zinc, providing about 3mg per serving or about 20% of your daily needs.

Contain all nine essential amino acids, and they are well digested, especially for a plant-based protein. foods.
Flax Seed Health benefits:
Omega-3 essential fatty acids

, "good" fats that have been shown to have heart-healthy effects. Each tablespoon of ground flaxseed contains about 1.8 grams of plant omega-3s.

Lignans,

which have both plant estrogen and antioxidant qualities. Flaxseed contains 75 to 800 times more lignans than other plant foods.

Fiber. Flaxseed contains both the soluble and insoluble types.
You don't have to hear it from us! Check out the reviews:
"Delish! The half-carb oatmeal is delish! I'm not usually a hemp hearts and flax kind of girl, but this was fantastic! So creamy and filling with just enough sweetness and flavor, I wasn't missing my usual apples & cinnamon sugar & carb loaded instant oatmeal. Thank you, Courtney for creating this!"
"Excellent. My kids and I both LOVE oatmeal. For the last year, I've assembled my own baggies of rolled oats mixtures because I was tired of all the extra nonsense in the individual packets. I tried the fruity cereal and it was DELISH! The serving size was perfect for a nice, filling breakfast. I'm excited to buy more for our kiddos to try.
"Yummy oats! Easy, delicious, satisfying, honest, no junk....all things I look for in a product. Absolutely would order this oatmeal! I look forward to more flavors! Yum!"
"So yummy! The Prymal oatmeal was so good. It was thick and creamy and the flavors were on point. I'm so happy they offer a low carb version. I was partial to the Fruity Loop Cereal Milk flavor. I can't wait to be able to order more."
"Healthy and tasty! I'm always willing to try something that is healthy for me with the promise that it will taste good as well. This met the mark for sure! Great taste and texture. I will definitely be purchasing this oatmeal once its released because I eat oatmeal daily!"
You've sacrificed enough. Time to bring something back

All Prymal products are crafted in-house and are made with 100% ethically sourced natural ingredients. Check out the details:
My goal with this oatmeal launch is to pay homage to this traditional breakfast while reworking it to fit our modern health goals: sugar-free, clean, non-GMO & gluten-free.
I've taken everything I've learned from creating the best natural, sugar-free, & low carb coffee creamers and applied it to the best farm-to-table oatmeal.
We've cracked the code for health AND flavor! Our indulgent-tasting products align with many lifestyle goals. We craft our unique, all-natural flavors by hand & are always in the kitchen experimenting new zero-guilt creations.
When my dad was diagnosed with Type II Diabetes, I was devastated. I knew our diet needed to change, especially the sugar. I started Prymal so my family and flavor lovers around the world could satisfy their sweet tooth in a healthier way.